Think Foodie is one stop for you to check out some flavorful recipes. It is not just about cooking a bunch of dishes but it is more of an experience. Build relations with our happy home recipes.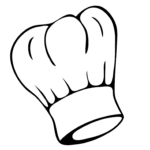 Our special recipes will instantly brighten up your day. Whether it's Indian, American or Italian, we use a variety of ingredients to produce these mouth-watering recipes.
The cook, author, web designer and photographer of Think Foodie.
Hey there! Thanks for stopping by!
Behind every food recipe, there is a story and culture hidden. We don't just learn how to cook but we also get to know the history behind it and how it came to existence. Through my food blogging website, I would love to share my stories behind every recipe. I began with this food blog "Think Foodie" with an intention to showcase my food recipes. I have grown up seeing and tasting a variety of food around me. I'm a big-time foodie and love being a host and enjoy cooking and serving my family and friends.

I love experimenting with new dishes from different parts of the world and have always been curious to find out more interesting recipes. I find cooking very soothing and relaxing, it gives me a break from other chores. All this time, I have been watching my mom cook this delicious meal for our family. My siblings and I developed this interest in cooking and experimenting, we children inherited this quality from our mom. She has always been a great inspiration to all of us.

While experimenting, I decided to write down all my recipes and now I would love to share it with my friends and people interested in trying out new recipes. I want to reach out to as many individuals as possible to share a bunch of recipes. Please do try my recipes and share them with your family and friends. I hope you enjoy exploring Think Foodie!
"Food was not invented just for survival. Food is an art, passion, and love. If you are a foodie, "Think Foodie" it is sure to generate a spark in your creativity. Looking forward to all the awesome recipes and stories behind them. Good luck to my buddy, Nutan"
"Nutan has great passion for cooking. I was fortunate to taste the Bombay Sandwich. Wow, that was delicious, cooked to the perfection. I am happy that you have started blogging now. ThinkFoodie the name says it all. Let the world taste your flavor. Good luck dear."