Pav Bhaji Recipe | Homemade Pav Bhaji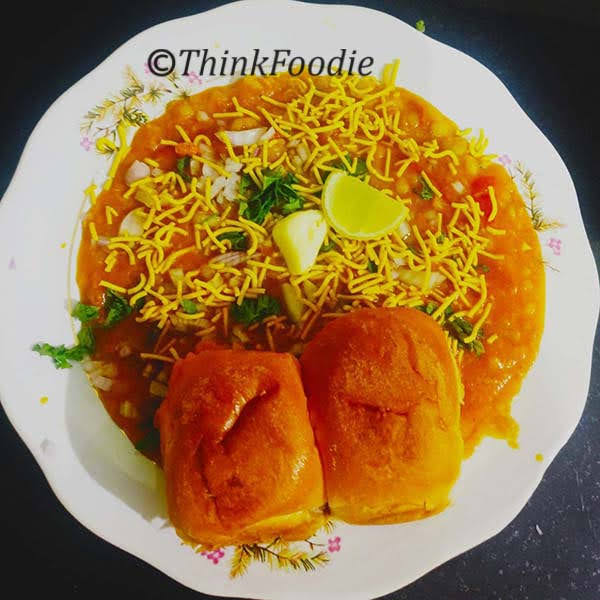 One of the favorite foods of Mumbaikars is the amazing Pav Bhaji snack. It is an integral part of the famous Maharashtrian street food in Bombay (today Mumbai). In the early days, this dish was a filling fast food for textile mill workers in Mumbai in the 1850s. Later, it became popular as street food throughout India. Pav is a Portuguese word for bread or small rolls, pronounced as "Pau" or "Pao". Bhaji means a vegetable curry.

The Masala for Pav Bhaji uses a special blend of spices. You will find a variety of masalas in the market, but you can prepare it at home using good and fresh quality spices. Usually, using a good amount of butter to toast the Pav slices will make it soft and tasty. This snack item serves with onions, coriander leaves, lemon, and sev. Sev is an Indian noodle made of gram flour, which is used in most chats. Some street vendors in Mumbai don't use sev, but I prefer to use it. Since it brings a different flavor. 
You will find this dish on the streets of Mumbai and most places in Maharashtra. It's even more delicious when prepared at home and healthy too. The homemade one contains fresh vegetables, oil, spices, and homemade butter. It is easy to prepare if you have guests over or would like to carry in your lunch box. You can prepare this item for breakfast as well as an evening snack. I hope you enjoy cooking this mouth-watering recipe for your family and friends.  
You can look at my other related collections – Chat recipes, Breakfast/Brunch recipes, Appetizers recipes, and Evening Snacks which includes Pani Puri, Mushroom Manchurian, Veg Manchurian, Potato Cheese Nuggets, Paneer Bhurji, Bombay Sandwich, Tomato Cucumber Sandwich, Garlic Bread, and Cabbage Steamed Momos.

Recipe Card for Pav Bhaji
Pav Bhaji Recipe | Vegtable Pav Bhaji Recipe
Course: Breakfast, Brunch, Evening snacks, Chats, Street Food
Cuisine: Indian, Maharashrian
Try out this step-by-step Mumbai style Pav Bhaji recipe with personal twist at home for your loved ones.
Ingredients
1 cup of dry green peas (Bombay Vatane) soaked overnight, boiled & mashed

4 medium boiled and mashed potatoes

1 medium boiled and mashed carrots

1/2 small boiled and mashed cauliflower

1 medium boiled and mashed capsicum

3 large finely chopped tomatoes

2 large finely chopped onions

1 teaspoon of ginger-garlic paste

1 teaspoon of Pav Bhaji Masala

2 teaspoons of red chilli powder

4 tablespoons of vegetable oil

100 gms sev

16 Pav slices

4 cups of water

1/2 stick salted butter

Salt to taste
Directions
Take the vegetable oil in a pot and heat it.
Add onions and salt to taste.
Let the onion become slightly golden brown.
Add the tomatoes and mash it as it cooks in the oil.
Add ginger-garlic paste.
Add Pav Bhaji Masala and red chilli powder.
Add all the boiled and mashed vegetables.
Mix everything well and mash it.
Add water based on the thickness of the curry.  

Cover the pot with a lid and let it cook for 2 minutes.
The bhaji is ready.
Take a pan (Tawa) and add butter to it.

Take a set of Pav (2 Pav slices) and cut it in between.
Toast the Pav on pan (Tawa).

Close the Pav and apply more butter on the top and bottom of the Pav.
Let it become crispy on both sides.
Serve the bhaji with this toasted Pav, sev, chopped onions, and coriander. Also, place a lemon piece on the side. 


notes
Apart from the above-mentioned vegetables, you can add any other vegetables that you feel are nutritious for you and your loved ones. When you boil and smash these vegetables it is hard to recognize the taste of it. This is especially helpful if you have kids at home and you are having a hard time feeding them a particular vegetable.  
If you don't have all the above-mentioned vegetables available or would like to save some-time then you can simply use the soaked dry green peas and potatoes.  
If you want to make an immediate snack for your guests in less time, then you can boil and smash a huge amount of these vegetables and freeze it. You can simply defrost it and use as much required for the moment and again freeze the rest of it. It can be stored in the freezer for about a week. However, eating freshly made Pav Bhaji is recommended for better taste and good health.
How to make Pav Bhaji step-by-step?
Step 1: Soak the dried green peas overnight.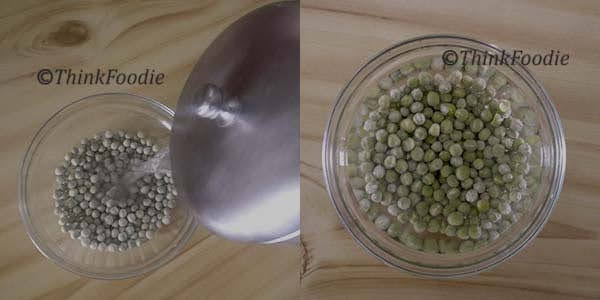 Step 2: In a pressure cooker, add the soaked dried green peas, potatoes, carrots, capsicum, and cauliflower together. Place the pressure cooker lid and wait for four whistles.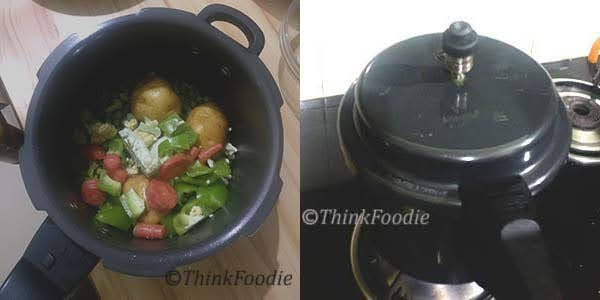 Step 3: After the cooker cools down, open the lid, take out the potatoes, and peel them. Add the peeled potatoes back to the pressure cooker and mash all the vegetables together.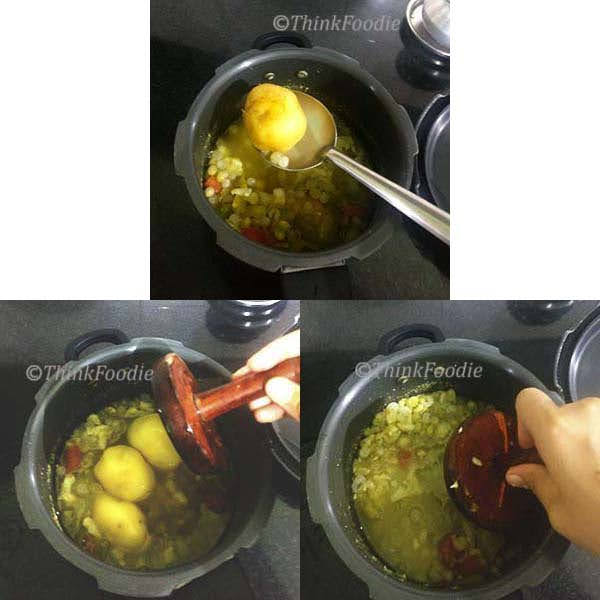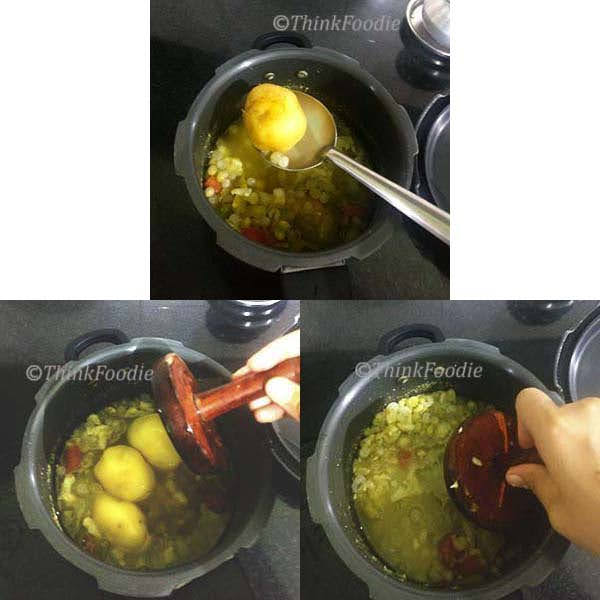 Step 4: Heat 4 tablespoons of oil in a pan and add 3 finely chopped onions to the oil and fry until it's slightly golden.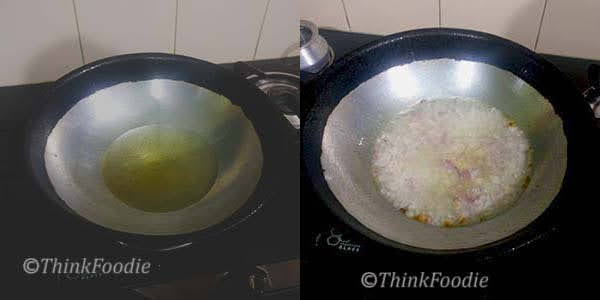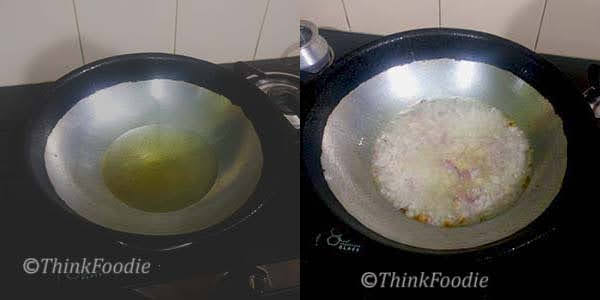 Step 5: Add turmeric powder, chopped tomatoes, ginger-garlic paste, and the mashed vegetables to the pan.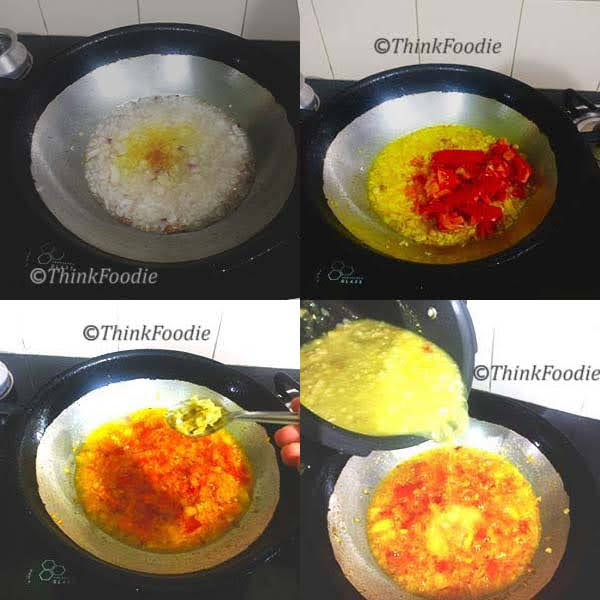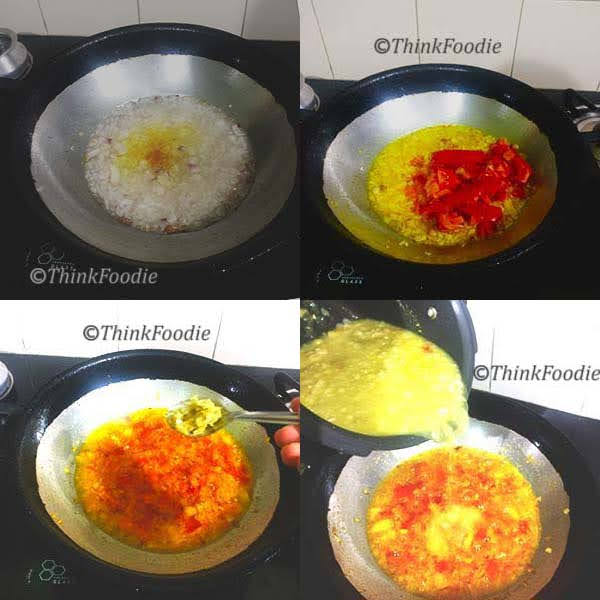 Step 6: Add ½ teaspoon of Pav Bhaji Masala, 2 teaspoons of red chili powder and salt to taste. Mix all the vegetables and let it blend with the other ingredients well.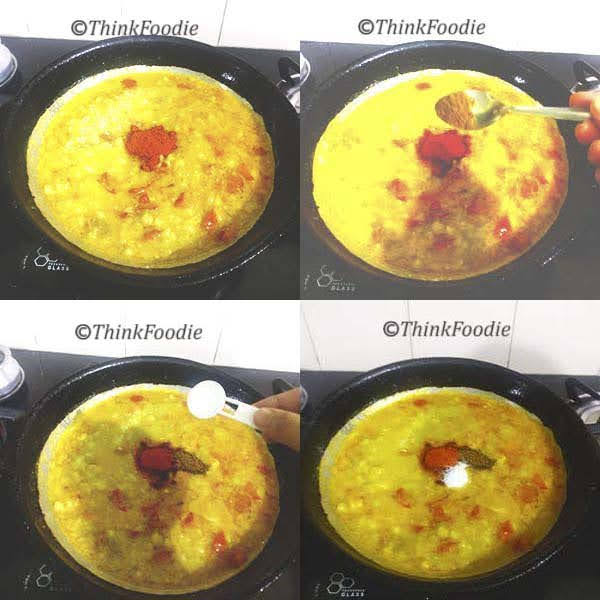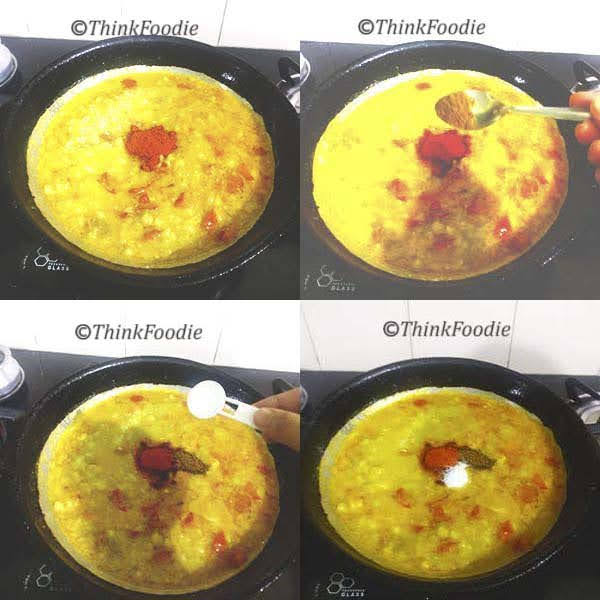 Step 7: Add water, based on the thickness you prefer. I would make it a bit watery because as time passes it keeps getting thicker.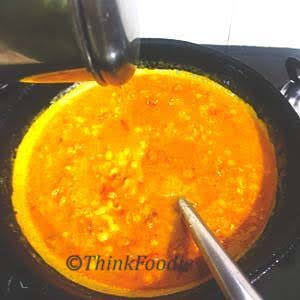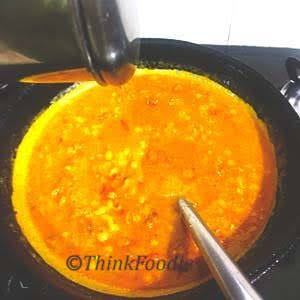 Step 8: Cut the Pav in the center and add 1 teaspoon butter on the pan (Tawa) and toast the Pav slices on both sides.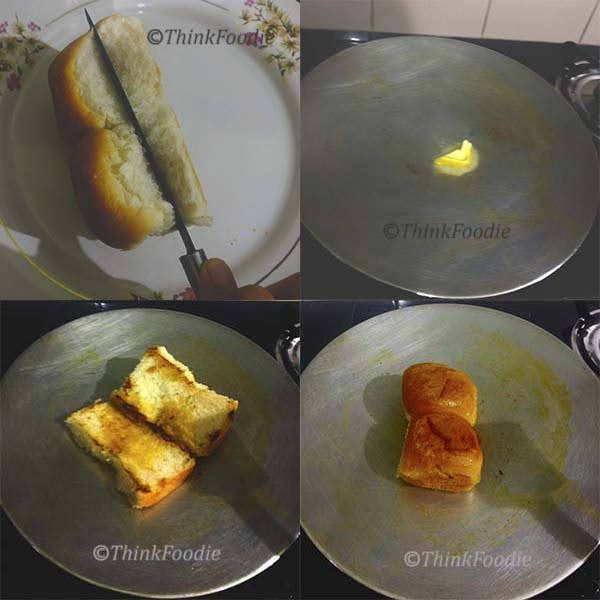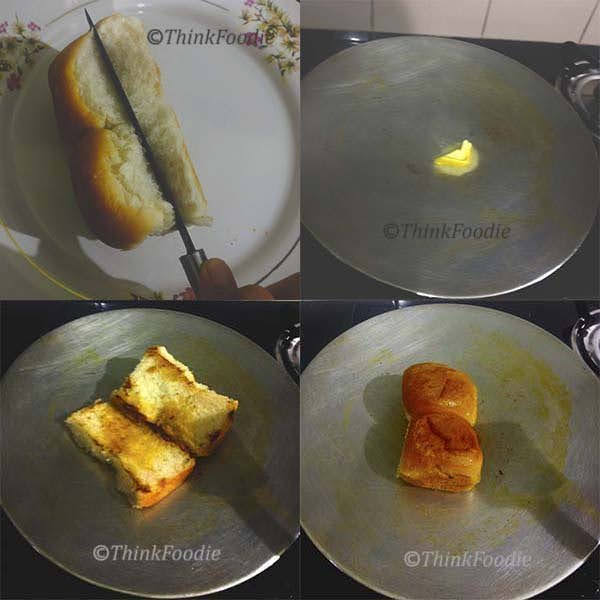 Step 9: Serve the Bhaji on the plate and sprinkle onions, coriander, and sev.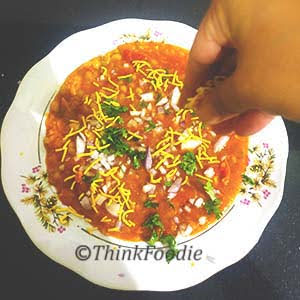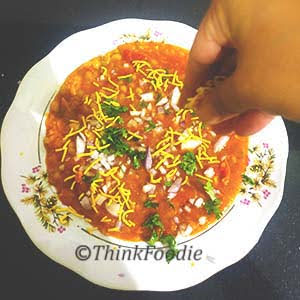 Step 10: Dip the Pav in a little bit of Bhaji and serve with Bhaji. And place a piece of lemon at the side or center to squeeze the juice while relishing.