Aamras | Mavina Hannu Rasayana | Ambyache Shikran | Mango Shikran | Mango Pulp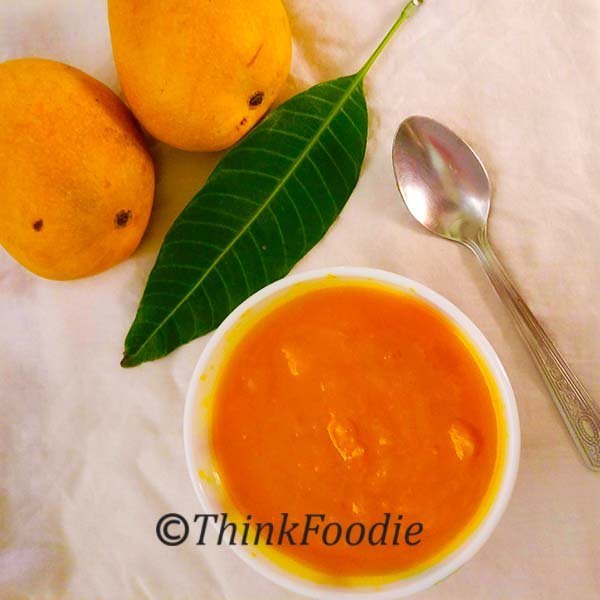 Aamras is a popular dessert in Maharashtra and Gujarat states in India. Every family in western India prepares this delightful dessert during summers. Aam means mango and ras means juice or pulp. To prepare this amazing mango pulp, the famous Alphonso mangoes are used. Although, it can be prepared using any ripe mangoes.

Mango is one fruit that is loved by almost everyone. It comes only in the summer season and is always very high in demand. Whether it's a ripe mango or raw mango, both taste equally delicious. There are plenty of recipes that can be prepared with this fruit such as Aam Panna, Mango Lassi, Mango Milkshake, Mango Pickle, Mango Cake, etc.

In this recipe, I have used Alphonso mangoes, sugar, and milk. This mango pulp can be simply eaten as a dessert or as a sauce with Chapati, Puri, or Puran Poli. In India, Aamras is prepared during the Akshay Tritiya festival. I hope you enjoy this quick and easy to make dessert with your family and friends.

Aamras | Mavina Hannu Rasayana | Ambyache Shikran | Mango Shikran | Mango Pulp
Course: All recipes, Beverages
Ingredients
4 large mangoes



1 cup of sugar



2 cups of milk 


Directions
Uncover the skin of the mangoes and keep it aside on a plate. 


Squeeze the mango stuck to the seed in a bowl and keep the seeds on a plate. 


Scrape the mango stuck to the skin using a spoon and keep the skins on the same plate. 


Add milk to the plate and squeeze the mango skins and the seeds. 


Pour this milk into the bowl and add sugar. 


Stir it well for 5 minutes and store it in the refrigerator. 


Aamras is ready. Serve it as a dessert or sauce with chapati (Indian bread). 


Notes
Add a pinch of salt to balance the sweetness on the mangoes and sugar. 
This mango sauce can be used to prepare mango milkshake, simply add this sauce and some more milk to the mixing jar and grind it. Mango milkshake is ready. 
The recipe provided here itself makes this sauce taste delicious but if you like, you can add some cardamom powder to it. 
This dessert can also be paired with Puran Poli or Puri.
How to make Aamras step-by-step?

Step 1: Take 4 large mangoes and uncover the skin and place them on a large plate.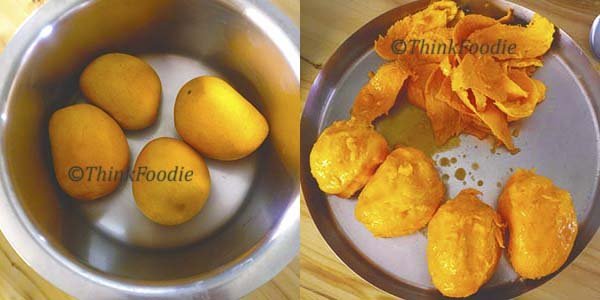 Step 2: Squeeze the mangoes one-by-one in a bowl and place the mango seeds back in the plate.

Step 3: Add 2 cups of milk to the plate, squeeze the juice out of the skins and the seeds, and pour the milk to the bowl.

Step 4: Add 1 cup of sugar to the bowl and stir it for five minutes. Aamras is ready. Serve it with hot Puris.