Pudina Chutney | Teekhi Chutney | Mint Chutney | Green Chutney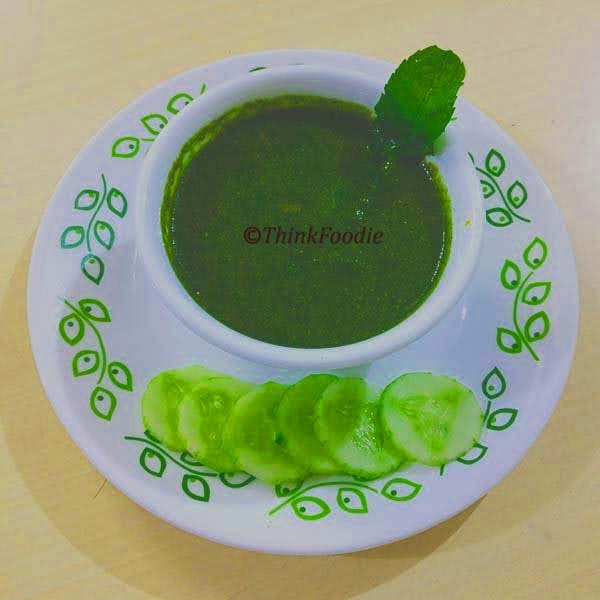 Pudina chutney is an Indian dip/spread that is served and used with various snacks, chats, chicken items, sandwiches, salads, and breakfast items. This chutney has 3 different versions. The first one is for chats, sandwiches, and snacks like Pakoda, Vada Pav, etc. Second is for Tandoori Kebabs, Biryani, and salads. The third is used in South Indian breakfast such as Idli, Pongal, Dosa, Uddin Vada, etc. This chutney is also well known as "Teekhi Chutney" and "Green Chutney".

In this recipe, I am including the first method. Soon, I'll be adding the other two methods too in the same post. This Pudina Chutney is used as a spread on sandwiches like Tomato-Cucumber Sandwich and Bombay Sandwich, you can use this for any other sandwich. Also, I use this chutney as a sauce for chat items like Vada Pav, Sev Puri, Bhel Puri, Ragada Patties, etc.

It is made using herbs like mint leaves and coriander leaves. Mint leaves are a great source of Vitamin A, helps with eye health and night vision, and a higher source of antioxidants when compared to other herbs. Indian food is nutritious and delicious with the presence of such ingredients. Indian diet is the best and immunity power is on the higher side. This recipe is a must if you're making sandwiches and chats. I hope you will love this Pudina Chutney recipe.
Recipe card for Pudina Chutney
Pudina Chutney | Teekhi Chutney | Mint Chutney | Green Chutney
Course: Chats, Dips, Evening snacks, Street Food, Vegan, Vegetarian
Cuisine: Indian
Ingredients
1 cup mint leaves (pudina)


1 cup coriander leaves


1-2 green chillies


3-4 small garlic cloves


1 teaspoon jaggery


1 tablespoon roasted split gram (roasted chana dal/phutani)


Salt to taste

Directions
Add all the ingredients and bit water to a mixing jar.

Grind until a paste is formed.

Notes
This chutney can be stored in the refrigerator for about 3 days and in the freezer for about 15 days. Using freshly prepared chutney is recommended as it doesn't take much time.
Make sure you grind the ingredients finely, do not make the paste coarse.
Use fresh mint leaves and coriander leaves. Please avoid using the ones that have turned brown or black. Also, avoid using stems else the chutney will taste bitter with the presence of all these.
Do not add too much of water, let the chutney be a thick consistency.
You can add some lemon to the chutney.
You can use black salt instead of regular salt.
How to make Pudina Chutney step-by-step?
Step 1: In a mixing jar, add 1 cup of mint leaves (pudina), 1 cup of coriander leaves, 1-2 green chillies, 3-4 small garlic cloves, salt to taste, 1 tablespoon of roasted chana dal ,1 teaspoon jaggery, and some water.

Step 2: Grind all these ingredients and make a paste. Pudina Chutney is ready. Serve it with your choice of snack.